Want a Clam Shack, but don't like the colors of the current inventory of guitars?
Hear those bouncy tunes from down by the beach?  Follow your ears to the sand and surf and you will find the Clam Shack!
Um, why?
The Clam Shack answers the question not many asked - can a Strat style tremolo bridge work as a tremolo with a separate bridge?  Turns out the answer is Oh YEAH!
The Clam Shack
Besides answering the question you didn't ask, the Clam Shack brings a whole mess of fun to your hootenanny - offset alder body with comfort contours, 25.5" maple neck with 9.5" radius rosewood fretboard, two of our Off-Kiltertron multi-voice pickups with our Bar-belle pickup in the middle, OKT voice rotary, 5-way switch with neck on push/pull, and a silky smooth Vega-Trem tremolo.
Want to escape the ordinary?  The Clam Shack is the guitar for you!
The Clam Shack guitar is $2,500 US including hard case.  Contact us for more information.
So how does this work?
The magic is in the OKT voice control rotary, which allows you to quickly switch between the three single coil and three humbucking voices.  The tone control has a push/pull switch to engage the neck pickup, allowing you to have the neck and bridge pickups on together.  Volume control has a treble bleed so the high end frequencies aren't lost as you lower the volume.  Pretty cool, eh?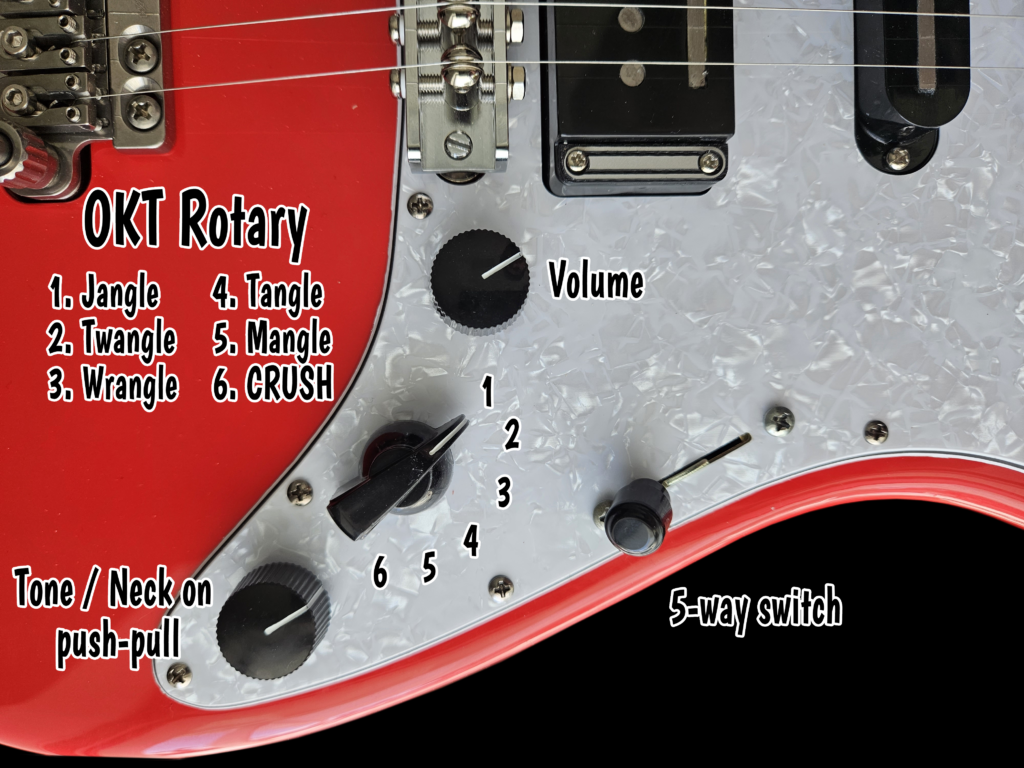 Click on the guitar above or below to learn more about each guitar, or click here to hear how the Clam Shack sounds!
Look at what people are saying about the Clam Shack!
I love my Alameda Clam Shack guitar by the shores of the Nile.  It kicks asp!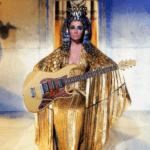 Cleopatra, Queen of Egypt
What can I say?  My Alameda Clam Shack guitar is positively electrifying - it's the key to my tone!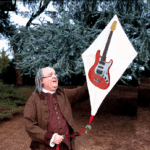 Benjamin Franklin
People used to think there's nothing to me but good looks; with the Alameda Clam Shack now they know I'm a riff queen, too!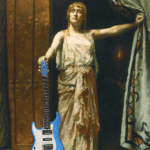 Helen of Troy
You know, the trip would have been a lot more enjoyable if I hadn't forgotten my Alameda Clam Shack at home.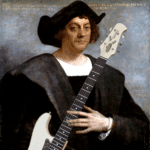 Christopher Columbus
I wanted an Alameda Clam Shack guitar but my mom said no.  "Why don't you go outside and play with your bow and arrows and your horse?"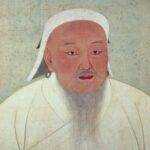 Genghis Khan
All I wanted was a place to plug in my Alameda Clam Shack, things just got a little out of hand.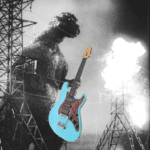 Godzilla
The Clam Shack sure looks fine, but how does it sound?  Enjoy this high budget video to find out!
Clam Shack in the wild - my interview with Ryan Burke of 60 Cycle Hum!
Intrigued, Ryan had me stop by his studio for a proper demo!
But wait... there's more!  Here's the first demo from deep in the skunk works...
What's the deal with the name?  Why "Clam Shack"?
Really, why not?  Try coming up with a name for a guitar that sounds cool and isn't already in use or previously in use.  I mean, I was all excited when I came up with the name "Stratocaster" only to find out there's already a guitar by that name!  Unbelievable, right?
So, the Clam Shack is called Clam Shack because a) nothing else goes by that name, except shacks selling clams, b) it's easy to remember, and c) it's silly and guitar playing should be fun.  So there.