Hear those bouncy tunes from down by the beach?  Follow your ears to the sand and surf and you will find the Clam Shack!
Um, why?
The Clam Shack answers the question not many asked - can a Strat style tremolo bridge work as a tremolo with a separate bridge?  Turns out the answer is Oh YEAH!
The Clam Shack
Besides answering the question you didn't ask, the Clam Shack brings a whole mess of fun to your hootenanny - offset alder body with comfort contours, 25.5" maple neck with 9.5" radius rosewood fretboard, two of our Off-Kiltertron pickups with our Bar-belle pickup in the middle, OKT voice rotary, 5-way switch with neck on push/pull, and a silky smooth Vega-Trem tremolo.
Want to escape the ordinary?  The Clam Shack is the guitar for you!
The Clam Shack guitar is $2,500 US including hard case.  Contact us for more information.
Click on the guitar above or below to learn more about each guitar!
Guitar pickups are transducers, turning the energy of the plucked string into an electric signal that can be amplified. There are a number of classic pickup designs behind the defining tones of electric guitar. This isn't one of them. Rather, ours grew out of our need for a pickup that fit the space requirements of our guitars. Unburdened by the goal of replicating a particular structure, the options opened up. Through several years of experimentation, we created a pickup that is many pickups - the Off Kiltertron.
Off Kiltertron!
The Off Kiltertron (OKT) pickup is a hybrid asymmetric, dual bobbin, multi-coil design.  With a bar magnet bobbin and a rod magnet bobbin, the pickup combines the wider field sensing of a bar magnet with the focused field of rod magnets.  However, what really makes the VF3 stand apart from other designs is the selectable coil engagement.  Paired with a six way rotary selector, the OKTs give three single coil and three humbucking settings, including single coil and humbucking settings at the same output level. 
These pickups cover a wide swath of sonic territory. Snappy, twangy, warm, crunchy - you'll find it all here. Used in combination, the neck and bridge together can be sweet, spanky and even quacky. Neck and bridge pickups are reverse wound / reverse polarity so the single coil modes are humbucking when both pickups are used.
The rotary selection settings are:
Jangle - rod coil (Ric/Hilo-ish)
Twangle - rail coil (Tele-ish)
Wrangle - rod and boost coils (Dyna-ish)
Tangle - rail and boost coils (Filter-ish)
Mangle - rail and rod coils (Gibby hb-ish)
CRUSH - rail, rod, and boost coils (Arrrrrgh!!!!)
We scatterwind our pickups one coil at a time and assemble them by hand. We build them using AlNiCo magnets, enamel coated magnet wire, shielded backplates, and custom covers - available as a standard sized humbucker, a dogear, a soapbar, Jazzmaster and Filter'tron. The hookup wire is four conductor plus ground.
With Off Kiltertrons, you can saddle up, sling your six string and cover the ranch, the range and the whole back 40.
Why the name?
We've long been fans of guitars with unique character, and Gretsch guitars have always been a big part of that.  Not long after designing the pickups for our own guitars, we started fitting them in Filtertron covers.  Our pickups being a bit unusual/peculiar/eccentric, they seemed to be an off kilter variation on the classic 'Trons, hence Off Kiltertron.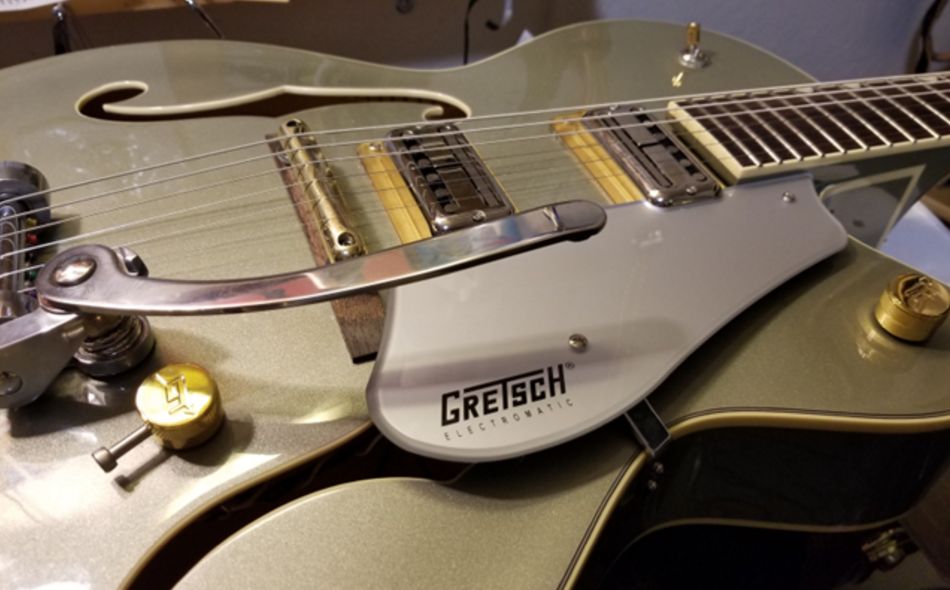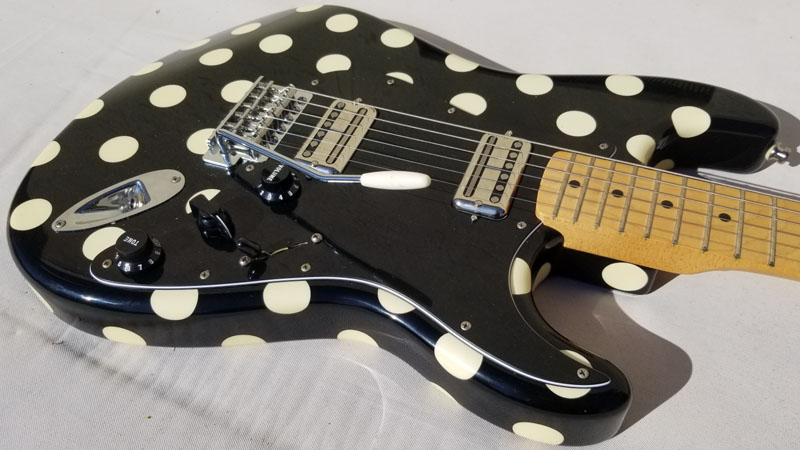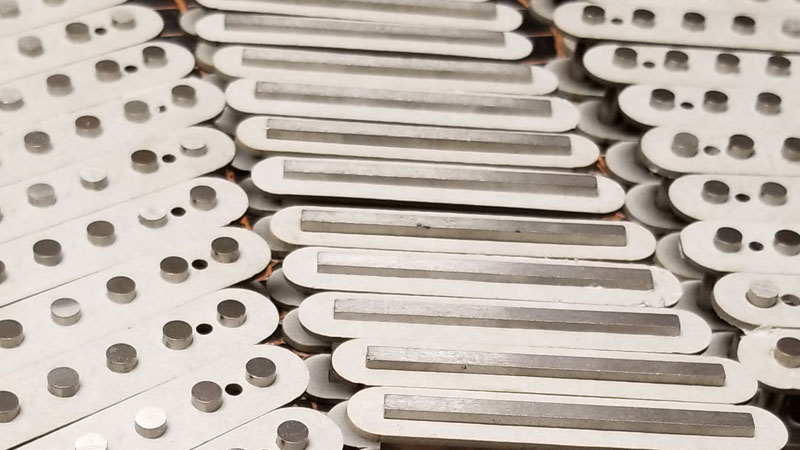 Pricing
Pickups are $180 each.  Selector pre-wiring (mini-toggle or rotary) $20 per pickup.  Please contact us for more information.
Sounds
Wow, these seem like pretty impressive pickups.  How about some sound samples?  
Can't get enough?  How about some videos of our guitars in action?
The Mach IV, "Lemon Twist"
In A Jam Band, "Crazy Little Thing Called Love"
The Mach IV, "Beach Bound"
In A Jam Band, "Misirlou"
Fuzz fiends, buzz bros, square wave savants, behold the Angry Hornet!  A blend of a Maestro Fuzz-Tone FZ-1b and a Vox Treble Booster, each with their own three position tone selector, the Angry Hornet runs the gamut of garage goodness.  By adjusting the effect blend and tone switches, it covers a variety of 60s fuzz voices, using four carefully curated silicon transistors to take your guitar signal and make it progressively more annoyed till it comes out the other end quite furious.  
The balance control allows you to select Treble Booster only (fully counter-clockwise), Fuzz-Tone only (fully clockwise), and any level of blend between the two.  Using the tone switches you can voice each side differently, making the blend control even more blendy.  Who could ask for more, really?
More info coming soon!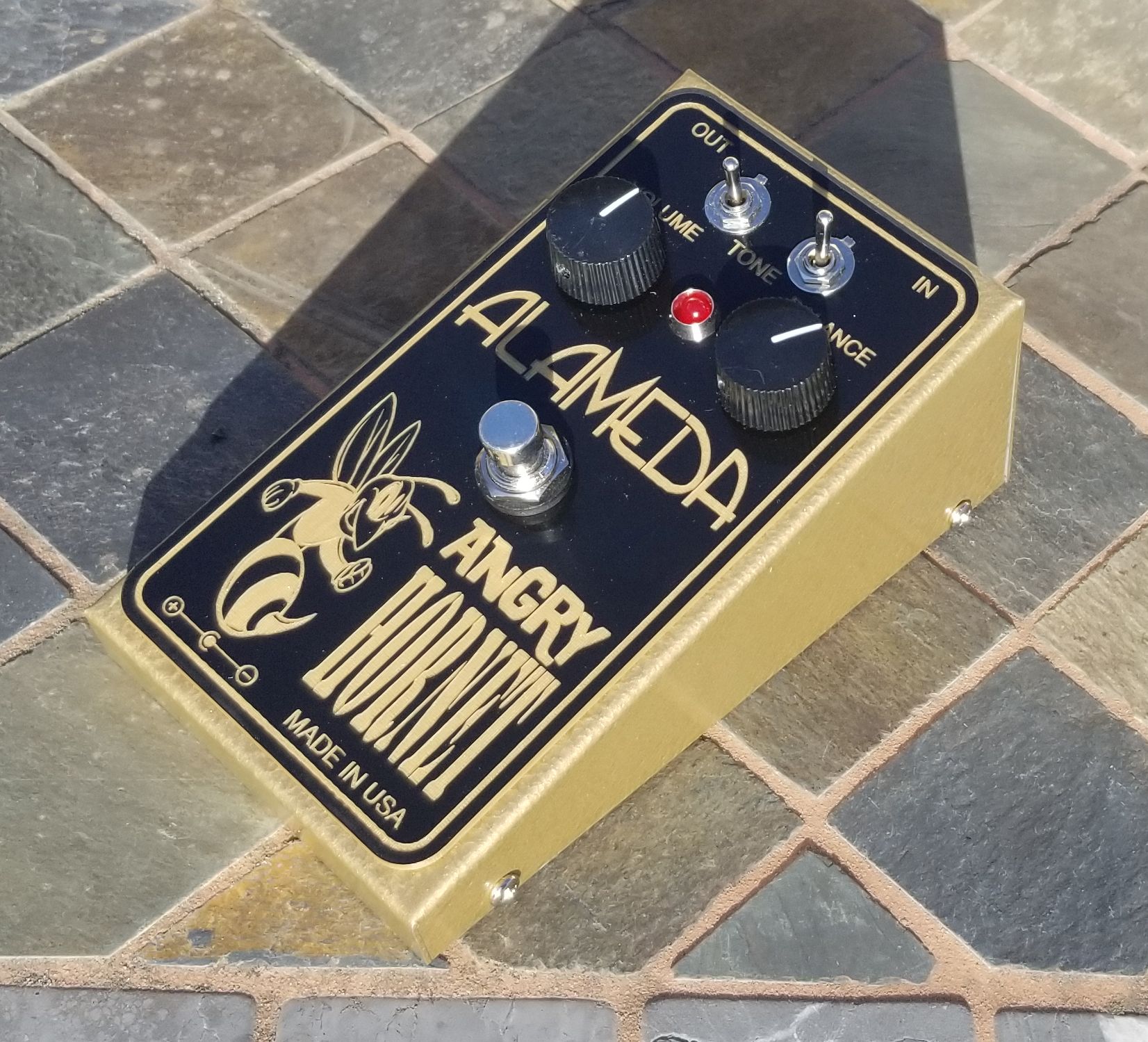 Pricing
The Angry Hornet is $200.  Please contact us for more information.
Sounds
Sure looks pretty, but how about a demo?  
Guitar players are a fussy bunch. We're after that special something; that combination of playing feel, tone and aesthetics that reaches out and grabs you on a visceral level. That guitar that takes you someplace new. That guitar that calls you to play, and once you do, you don't want to stop.
Mojo on the go?
Chances are you've already got a guitar or two that really speak to you. You've got them dialed in and set up just how you like them. Now, what do you do when you need to travel? You've got a couple of choices. You can take your cherished guitar with you and hope that you won't be forced to check it through. You can borrow a guitar when you get where you're going and hope it's something set up tolerably well. You can get a travel guitar, with a mini-scale or a mini-body or some other odd compromise.
The Beatnik Baron
Here's where the Beatnik Baron folding electric comes in. This is a no compromises guitar. Full 24.75" scale. Multi-bound, carved semi-hollow body with a solid core and a single unified acoustic chamber. Flame maple caps, front and back. Custom, hand wound Off-Kiltertron multi-voice pickups. Unhindered fret access all the way up the neck. This is an exceptional guitar. That happens to fold down to 24" for travel.
Tension: Fold and hold
This is no ordinary collapsible instrument. Guitars exist with removable or folding necks. What makes the Beatnik Baron special? Tension. Folded or unfolded, the patented rotating mechinism of the Beatnik Baron keeps tension on the strings. This maintains the balance of truss rod and the neck wood to keep them stable. Strings tuned to pitch exert well over 100 lbs of pressure on a guitar. With Alameda, there's no sudden application or release of this force as there is with other collapsible guitar designs.
Want to go places with a guitar you love without worry? The Beatnik Baron is calling you.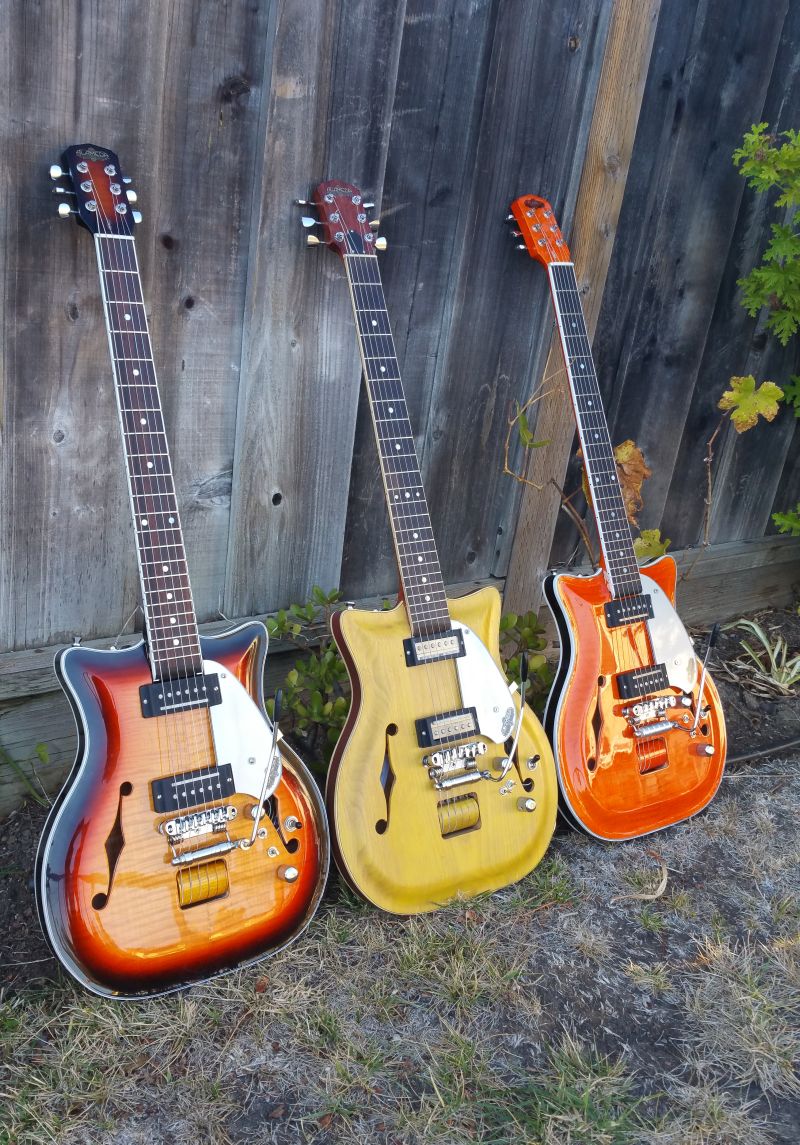 Surf Guitarists, Reverb afficianados - have we got the pedal for you!
There's nothing like the crazy reverb drip of a 6G15 style outboard Reverb; it's the defining tone of surf guitar.
That wild reverb comes with a challenge - how much is enough?  How to you set the reverb level to have enough drip for palm muting while having the clarity for complex melodies?  In the past, this has involved on the fly adjustments to the Reverb mix level as needed.
Now, there's a solution.  THE DRIP SWITCH.  This Drip Switch plugs into the foot switch jack of the Reverb chassis, and gives you the ability to set a secondary mix level which you can select with the pedal.  You can also control the Drip Switch mix with your foot as you need - per song or per passage.
How It Works
Outboard Reverb
Using a standard 1/4" instrument cable, connect the Drip Switch to the foot switch jack on the underside of the Reverb chassis (between the two smaller tubes to the right).  Set the controls on the Reverb to the your maximum intended reverb level.  Use the mix control on the Drip Switch to set lower level.
Combo Amp
On a Fender style combo amp with vibrato and reverb, you will need our accessory kit to connect the Drip Switch.  Start by disconnecting the reverb return cable from the Reverb Output jack on the chassis.  Plug in the RCA male to dual female splitter to the Reverb Output.  Connect the reverb return cable to one side of the splitter, and, connect the RCA to 1/4" adapter to the other side.  Plug a standard 1/4" instrument cable into the adapter to connect the Drip Switch.  The stock Reverb/Vibrato footswitch is not affected and may be used to turn the Reverb on and off.
IMPORTANT NOTE: The Drip Switch is designed to be compatible with the Fender 6G15 Reverb tank and Fender combo -Reverb amps both vintage, clone, and reissue.  It is also compatible with the SurfyIndustries SurfyBear Reverb DIY kit.  HOWEVER, Drip Switch will not work with the Surfy Bear Metal and Classic pedals without modification to the pedal.  For uses other than the Fender 6G15 Reverb, you may need the additional accessory kit.  If you have any questions, please don't hesitate to contact us to discuss your application.
DO NOT USE the Drip Switch with any amps besides the 6G15, Fender combo -Reverb amps, or SurfyBear as reverb circuits vary and the voltages can be dangerous.  If you have questions about a particular amp, contact us to review the circuit and discuss.
I WANT ONE!
The Drip Switch is now the Surfy Industries "SurfyDrip"!  Available at their webstore:  https://www.surfyindustries.com/surfydrip
The Drip Switch is no longer in stock.  Please contact Surfy Industries for more information on the SurfyDrip.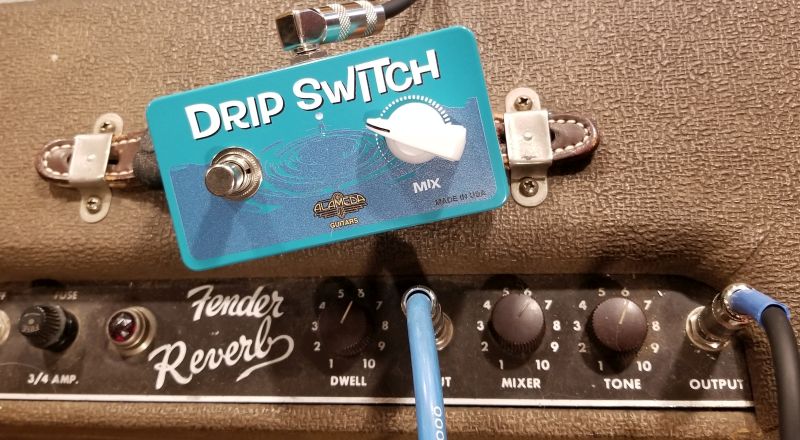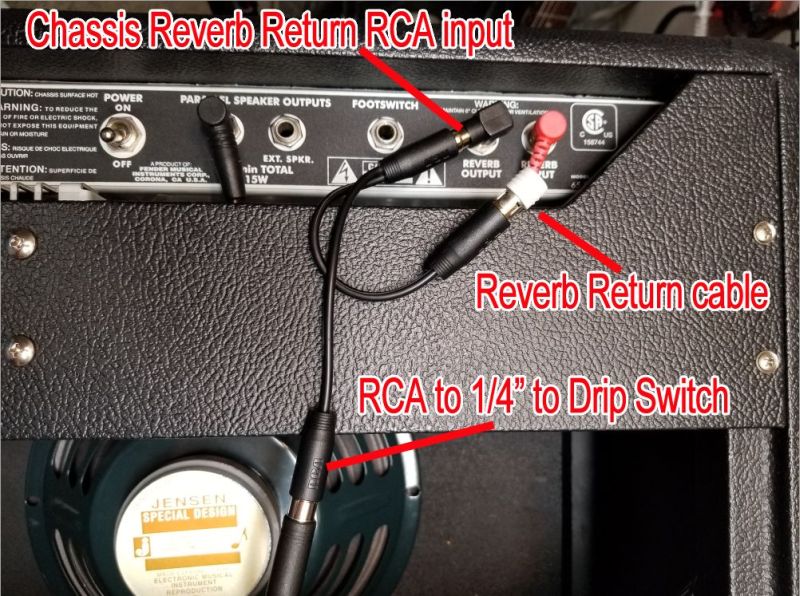 Looks cool, but wait till you hear how it sounds!